As part of an ISOBUS system, our powerful communication library ISOAgLib SE (Safety Edition) contains all functions that can be found in a communications data network according to the ISO 11783 standard. In addition to these functions, all machine-specific interfaces are already implemented – for uncomplicated entry into the ISOBUS world. The software solution is not only flexibly configurable, it also works completely
hardware-independent.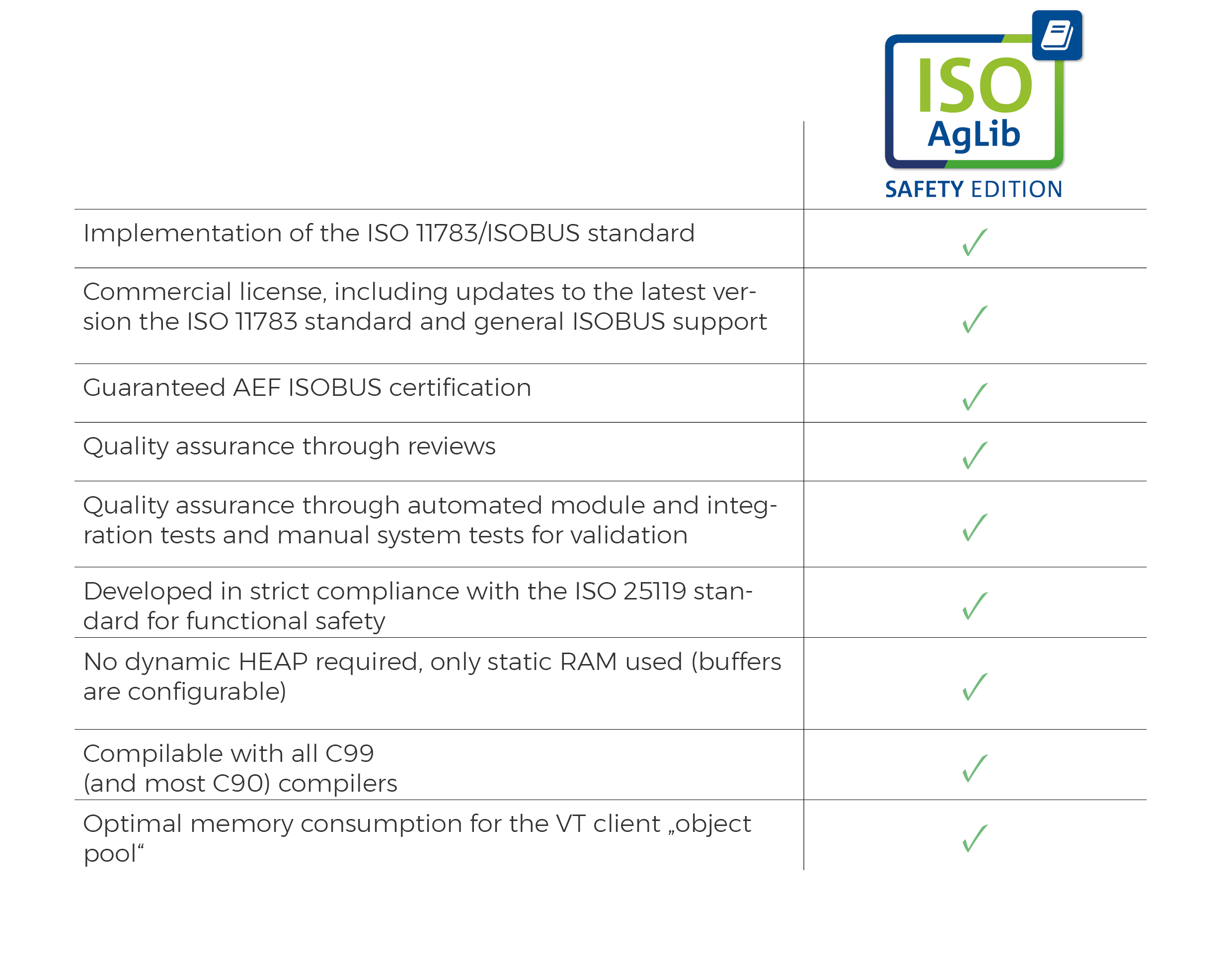 Further advantages of ISOAgLib SE
Implementations of the higher parts of ISO 11783 (parts 6, 7, 9, 10, 12, 13) abstracted from the base protocol (parts 3 & 5)
Structured design due to the use of a layered architecture
Simple, lean and intuitive API
Integrated system validation test to ensure operability on the target hardware
Highest possible functional safety due to development according to ISO 25119 with SRL 2
High reliability thanks to complete self-monitoring
In 2017, we developed the ISOAgLib Safety Edition (SE) in compliance with SRL 2 according to ISO 25119 standard. It complies with the current standards for functional safety and is therefore "Safety ready". ISOAgLib SE is certified annually by TÜV Süd.
Software requirement levels according to ISO 25119
To ensure the functional safety of safety-critical software during operation, the ISO 25119 standard has defined various software requirements levels (SRLs). The higher the requirements for system safety, the higher the requirements for the planning, development and maintenance of the software. The table below shows the differences between software requirement levels 1 and 2. Here it becomes clear at first glance why the ISOAgLib SE with SRL 2 is far superior to other ISOBUS stacks in terms of quality as well as testing and validation options.
Comparison of software requirement levels in software development according to ISO 25119
The ISOAgLib SE communication library is programmed in C with no external dependencies and is efficient and configurable in terms of RAM usage. It is easily integrated on all common embedded platforms and can be used for C or C++ applications.
ISOAgLib SE is compliant and includes the AEF client functionalities UT, AUX-N (functions and inputs), TECU, TC-BAS, TC-GEO, TC-SC, LOG, ISB, FS, TIM and the AEF server functionalities TIM and TECU. Depending on customer requirements, the licensing model offers separate modules. The Basic Communication module is mandatory as the basis for all other modules. All other modules are optional.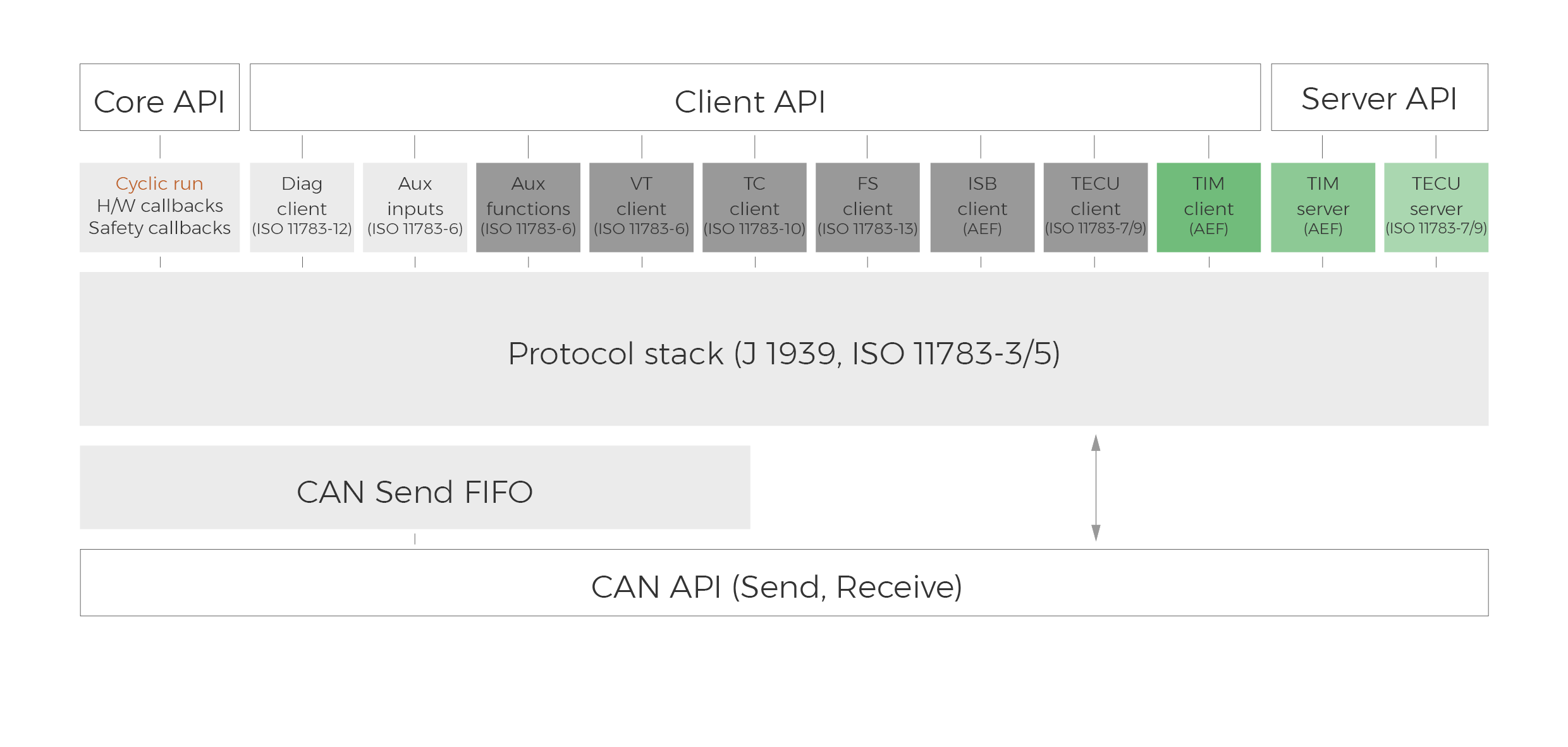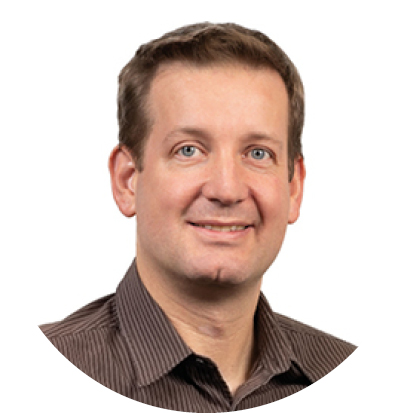 "Why do our customers choose ISOAgLib SE? The decisive factor for our customers is the implementation of ISOAgLib SE in accordance with the requirements for SRL 2 according to ISO 25119. Current AEF guidelines only consider application scenarios with a maximum AgPL=c and therefore only recommend implemen-tation with SRL 1. We thus offer our customers the highest possible level of investment security currently available on the market. As the degree of auto-mation increases, so do the require-ments for the functional safety of a system. By choosing ISOAgLib SE, our customers have opted for future-proof and durable technology. Another reason is the high and consistent quality of the software, which is guaranteed by the numerous tests and verifications – carried out in accordance with SRL 2 – during implementation."
Manager Research & Development,
The ISOBUS Experts
Contact us!
Talk to us about your project ideas and together we will find out how we can support you in the best possible way.